Once again I've been absent for some time. I've been on tour.  The agency that books my work, Artists West Entertainmet, does a fine job of keeping my calendar full. Sadly the means I'm not always connected to the internet enough to post my blog.  Lucky no one reads it, so there's that.
Last week for the first time, I performed on Princess Cruises. While I've been headlining shows on cruise ships for well over a decade, Princess had somehow escaped me.  I'm glad I finally got to work it. What an experience, I loved it.  I truly did. I'm SO thrilled it came to pass that Princess booked me. 
Two shows in the theatre and two in a smaller lounge.  The techs were AMAZING to work with, and I hope to work with them again soon. Here's a picture of the theatre.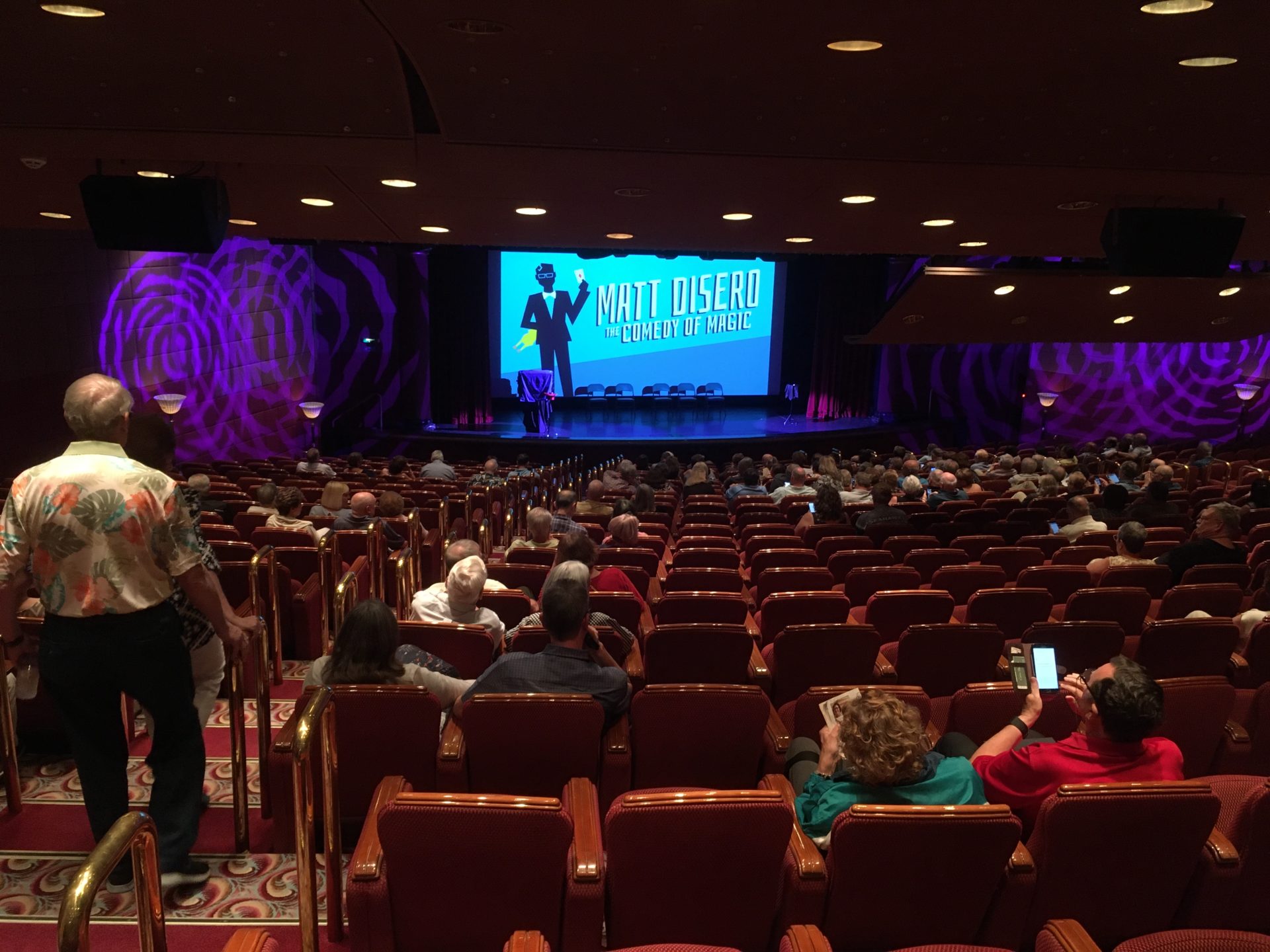 THE BEST PART :
The most striking thing for me, and a game changer for someone who travels professionally and is away from family a lot, is Princess Cruises medallion internet.  Unlimited high-speed internet at sea.  I've never been constantly connected to the internet while at sea and have my family and friends call or email when they need.  I was able to run my business of booking shows like I do as if I was home, watch Netflix and every day, and my son was able to facetime chat with me.  All this from the comfort of my very nice and well appointed cabin. The Princess Cruise internet was SO good  ( and SO inexpensive too  ) that my kid was able to video chat and see us going through the Panama Canal.  That is something he'll never forget, nor will I.

The interesting and unintended consequence of being that connected while working on a cruise for a week is being able to see my son every day. Video at the bus stop, saying good night etc meant that I was very happy.  I didn't feel the normal stress associated with travelling by myself and the feeling of isolation as entertainers are prone to experience.  That in turn led to AMAZING shows.  I was happy, and it showed onstage. 

Bravo Princess Cruises for setting up such a fantastic cruise, with first rate food and amazing crew, and that internet.  
I look forward to the next time we do business and I'm hired to perform on your ships.  You'll get the very best of me and my performances, because you gave me something I've never experienced on a ship before……. The ability to see my family every day.  What a wonderful experience all around.
Until next time,
Good Night and Good Luck,
Jane Doe