It's all in the details.
Artistically I love to noodle around with details of my performance. Subconscious things the audience doesn't actually notice but can impact them.I've realized lately that my shows have been stronger because I've been finessing the staging and lighting.  Most importantly the PRE SHOW staging and lighting.
It occurred to me ( maybe finally ) that what an audience sees when they enter the theatre to watch my show sets the tone. In a REALLY big way. What they see as they come in, and as they sit and get ready for things to start makes a big difference. With graphics and lighting and music I've been able to create anticipation and a sense of fun without even having to walk onstage.
Take this situation as an example.  I perform often on Holland America Cruise Lines.  I love the ships, food, people and shows. Their theatres are just amazing. It's by FAR my favourite place to perform.  That said I'd like the audience to really have the best time possible.
I know the demographic of this crowd, so I try to appeal to them. I have a graphic on screen ( the image below ) and that graphic is in the style of Saul Bass, with lighting to compliment. Saul is a personal favourite of mine when it comes to artists and filmmakers. If you're not familiar with him, Saul Bass did the title sequences of many movies from the 50's onward to the 90's.  Psycho, Anatomy of a Murder, Man with the Golden Arm, Vertigo, Casino you name it.  His work is iconic. It's also timelessly cool.  This graphic works because the older people in the audience see it and know what it is, a cool homage to Saul, and it instantly says what my show is about. It also reminds them of those cool movies from the past, along with the preshow music I play from those movie themes and puts them in a great mood. The younger people who don't know the films and Saul Bass's work, still see the image onstage and think it's cool and funny.  So, I win on both levels.
Young or old the audience sees my stage set up and instantly knows there's something fun, magical and cool about to happen.  No one has to say anything, they just absorb that information.
While its stylized, the picture of me tells them I wear a bowtie, and that I don't take myself too seriously.  It's exactly what I want for my audience to think about before I begin to perform. It's a lot of win before they ever actually see me.
It's really something to be mindful of and can take a performance to another level. The more I pay attention to these things, the happier I am, the happier the audience is.  It can't get better than that. The art is always in the details.
I'm considering having specials lit on my props too.  Maybe not a bad idea.  What do you think?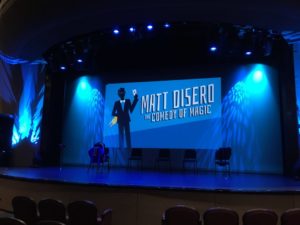 Until then,
Good Night and Good Luck,
Jane Doe