I just put on Echo and Bunnymen, so get ready to sit back and chill.
Having returned from the panama canal, a cruise I was performing on courtesy of Holland America Line, I'm pretty stoked. This year they've been super generous and booked me to headline their ships across the globe.  I look forward to more. As a magician and comedian, you can't get better than that. Said it before on this blog  and I'll say it again, HAL is the best cruise line on the water.  They take care of the passengers in a pretty spectacular way.  If you've sailed other cruise lines before, hop over to Holland America.  Trust me, HAL will treat you right, better I believe than any other cruise line.  I've worked them all.  Well, I've never worked Princess, so I can't speak to that…but, you know 😉
While I'm on the panama canal ship, The Zaandam, being BLOWN AWAY by the amazing sights that particular cruise has to offer, I have to do a show.  It's why I'm there after-all and the thing I look forward to most. It was a particularly good performance.  All ego aside, the audience loved it. As I left the theatre I noticed a couple sitting, waiting to speak to me. It's not uncommon that guests want to speak with entertainers they've just seen perform on a HAL stage. While some acts decline, I think we are duty bound to chat with guests wherever or whenever they want to talk to us. They gave of their time to attend our shows. The least we as performing artists can do is give back some time to answer questions. Maybe we sign an autograph, or take a picture with them.  It can make their whole cruise and it's not a big deal.  Giving of your time is part of the job and honestly the right thing to do.
Turns out this couple waiting to speak to me are the authors of a children's book and wanted to chat about kid stuff.
I mention my son in my show with some regularity. He's the focal point of an entire routine. That's right, I've exploited him for laughs in performance.  This writer couple from the audience loved all the kid material in my performance and told me that it was one of the best shows they've seen on any Holland America ship.  That's high praise.  Holland America only books extremely talented artists, and I'd never be so ego driven to believe I'm better than that stable of talent. Many of those HAL acts are my friends, but still.  I took the compliment and celebrated a great and impactful show with a martini afterwards.
The next morning, I was called to guest relations. Get ready for this, they left a copy of their book for my son!  Turns out they're not just authors, but THE author, selling tens of thousands of this book.  They sell like the Stephen King of the children's book world.  Massive stars. What an unbelievable honour that they would take the time not only to talk to me after the show but to deliver this book for my son and I.  So now its me who's cruise was made by chatting to THEM. As an entertainer, when things like this happen, it means you're really doing something right, and that's the best thing you can do as a performer — Impact someone's life. They enjoyed the show and I enjoyed performing it. That's a heck of a good transaction. The Martini after was also a nice treat, but that's for another time to talk about.
Below is a picture of the book and the note they left. So great when something nice happens.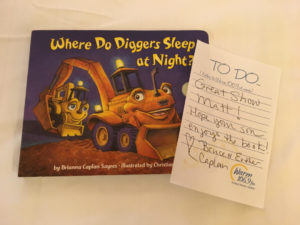 Until next time,
Good Night and Good Luck
Jane Doe.