Conference Season Starts again 
I go back to work today, as much as performing can be compared to work.  It's something I love, so I rarely label it "work".  The fact remains I go back to performing at noon today.  A conference for insurance executives. I'd taken 5 weeks off performing because, to be honest, I needed it.  I spent most of last year away in 10 day hunks with only a week in between and I flew 180 thousand miles.
 
The next couple of months are interesting.  Starting with todays conference, then Thursday night I'm performing for a group of investment brokers in Toronto, Friday at the Metropolitan theatre in Winnipeg and Saturday at the Keystone Ampitheatre in Brandon Manitoba.  12 Days off, then a week on Holland America's Nieuw Amsterdam ( one of my all-time favourite ships ), home for 3 days, then a week at Marvyns Magic Theatre in Palm Springs.  I like it.  
Sailing with Holland America

I'll probably never figure out this work / life balance thing….but maybe.  I have to admit that while I'm on Holland America, free of my kid and the distractions of home. I'm the most rested and relaxed I am all year.  Is that selfish? Is that work / life balance? This is why people take luxury cruises.  I supposed it hadn't really registered with me because I see it as being there to work and I take it seriously.  I also sleep in every day and get to jog in the heat most afternoons.  Here's a screen grab of the itinerary for the week of Feb 15-22 2020 that I'll be doing for Holland America.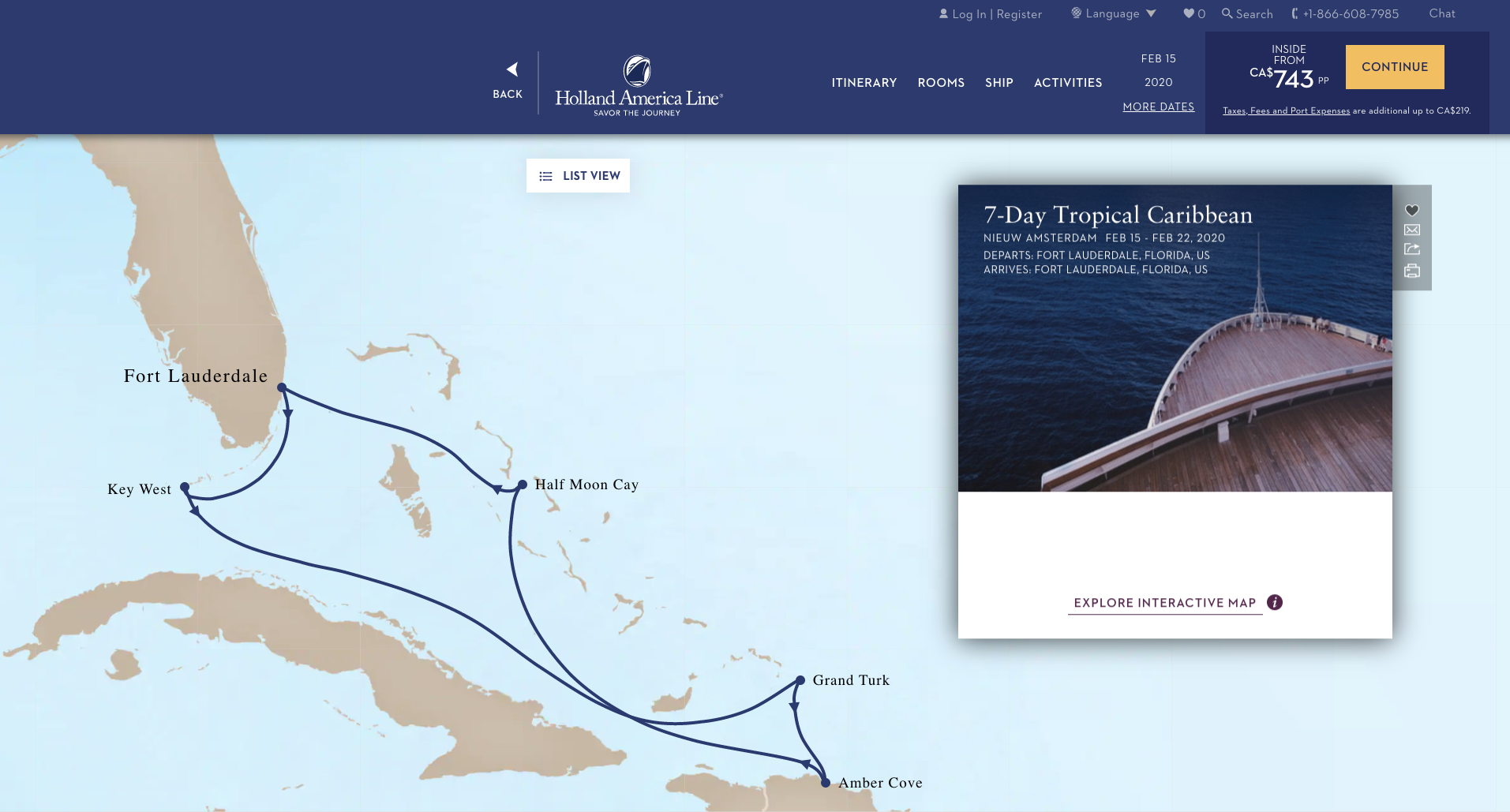 I'm often asked how does it work with ships? , what exactly happens getting on and off etc. So, here's a heads up for how it works.  Holland America is easily the best on the planet for getting passengers on and off their ships in a timely and organized fashion. It's remarkable and one of my favourite parts of performing for them. So never worry about that.  Generally Holland America Line thinks of everything….

You fly in.  HAL has made the pick up from the airport super easy.  You get on the ship, find you cabin which takes about 20 min, then that's it.  Your time is your own. Live shows, amazing food and interesting ports to hang out at most days.  It'll take you a half day to get used to the ship and where venues on it are, but there's signage everywhere.  Don't worry. Usually 2 days of the week are sea days, just sailing to another country.  I think it's nice, surrounded by the ocean all day.  I jog laps around the ship so I can see whales and dolphins, but others read and hang out by the pool.  Relaxing is the name of the game on a sea day.  Port days you'll be up earlier to get to your shore excursions etc, but not always.  Some people elect to sleep in and visit the port on their own time.  Also cool. Last night of the cruise you pack up, leave your luggage in the hallway and walk off the ship next morning to be greeted by that luggage at the customs hall. 
All that's left to do is, when the customs officer asks if you have anything to declare; simply reply "Only that I had the best time ever".

Hope to see you on the seas soon! I'm off to perform for some insurance people… Pray for me
Good Night and Good Luck,
Jane Doe