Another late post, but I just returned from AMAZING shows on Holland America's Neiuw Amsterdam in Central America on its way to the Panama Canal. I honestly think that being a comedy magician, someone who can truly blend being a comedian and doing skilled magic is the way to really grab the crowd. Its interactive and still funny. People feel they're OF the show. The shows and the people were so good, it made me really happy to be there. By contrast I'm about to perform on another cruise line for the first time ever. I'm home now and will be performing at corporate after dinner events and holiday parties through to January. That said I'm sneaking in a short 5 day run on a new cruise line in November just to see what that's about.
I've heard a lot of things about this other cruise line, and I hope I like it….but so far the reviews from other acts about living conditions etc are not good. The contract is only for 5 days so we'll see how it goes and I'll swing for the fences on the shows. I will ALWAYS be a professional with my show and the quality of the entertainment, no matter the situation. Point is, my agent suggests its good business to have a back up cruise line to work in case anything ever happened at Holland America.
HAL has been VERY, VERY good to me. To be honest, I don't want to work any other cruise line…. ever. I really like how Holland treats me and how the shows and staff run. I like the passengers and how I interact with them. I also hate change, and another cruise line is change. I like that I know all the ins and outs of Holland America Line. I like it's amazing food and the vibe of the ships. The passengers like me too, check out this review a passenger emailed in…. I mean, it makes me feel good to make other people feel good. What could ever be better?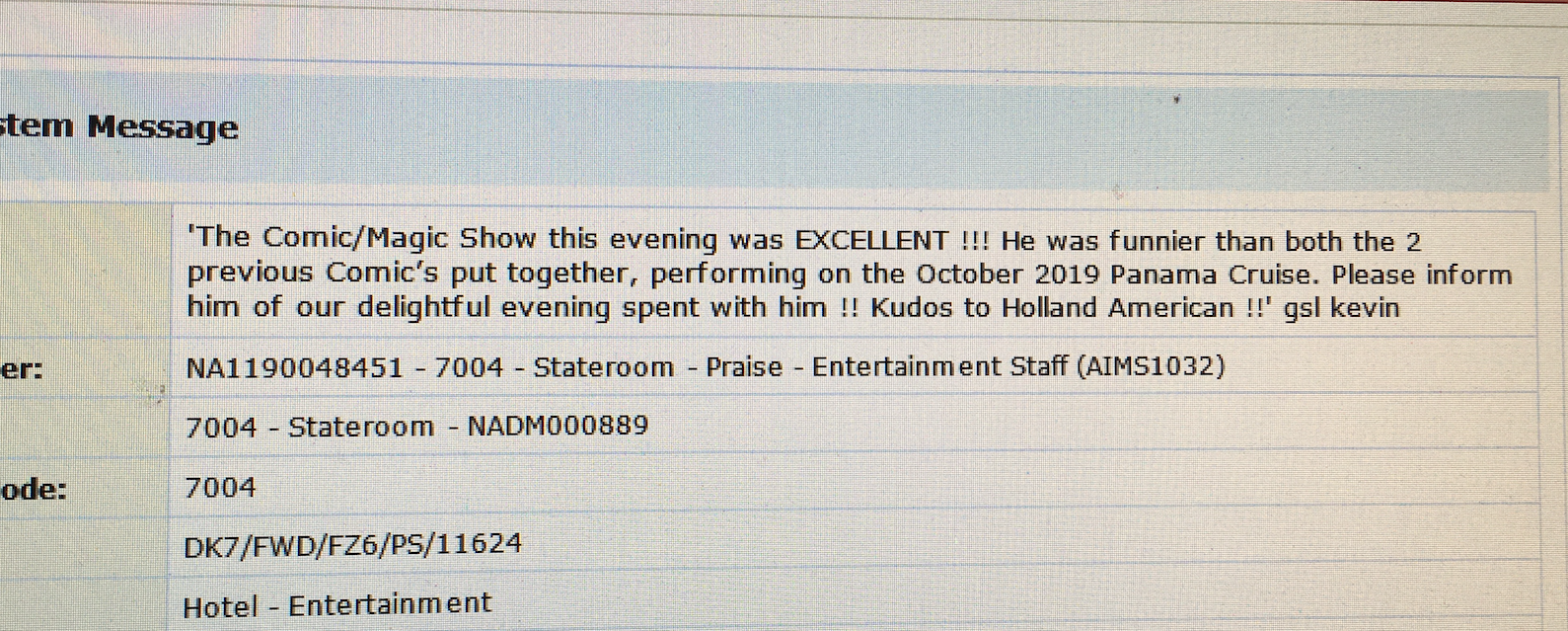 End of the day I think what I want to say with this post is…. While in business it's wise to hedge your bets, I'd rather go with my gut and hope that relationship and quality of the entertainment wins the day. I hope that I never actually need this other cruise line. With so much of my work tied up in the conference and convention entertainment industry, performing on ships is such a luxury. I want to be the best it can be. Thanks Holland America, for making it awesome !
Until I see you on the sea or the conference dinner
Good Night and Good Luck,
Jane Doe.